Ross-on-Wye
An Historic Market Town in The Wye Valley
High on a sandstone cliff, overlooking a large loop in the beautiful River Wye is the historic market town of Ross-on-Wye. Situated in the heart of rural Herefordshire and in the picturesque Wye Valley it has become a popular destination for tourists.
Ross is an attractive and friendly town with Tudor timbered houses clustered around the striking 17th Century Market Hall where the twice-weekly markets are still held. The street layout of the town centre has remained almost unchanged since mediaeval times with many of the houses being rebuilt in the early seventeenth century including 'John Kyrle House' which stands opposite the market house and was home to the famous 'Man of Ross'. Few people have had a greater impact on a town than John Kyrle had on Ross-on-Wye, amongst other things he was responsible for laying out the Prospect Gardens and for reconstructing the 14th century spire of the Church of St. Mary. The spire of the Church dominates the skyline as you approach Ross-on-Wye and is probably the most recognisable image of Ross.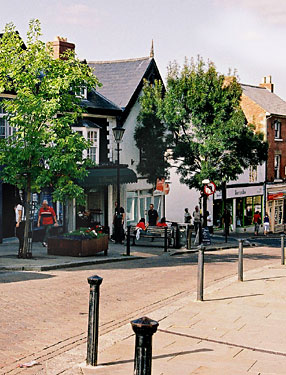 Ross first became a settlement around the time of the Saxon invaders and evolved from an earlier iron age fort on Chase Hill. The surrounding area is steeped in history with prehistoric caves, Neolithic settlements, Roman forts and Medieval Castles. The local villages, valleys and hillsides have yielded a veritable treasure trove of artifacts and archaeological evidence of the areas colourful past.
In recent years the town has undergone major improvements including the paving of the town centre, the introduction of a one way system and with the building of new shops and improved amenities the town has been revitalised.
Today Ross is an ideal base for exploring the district with its excellent road communications and wide range of accommodation. The Forest of Dean, Symonds Yat, the Brecon Beacons, Black Mountains and Malvern Hills are all within easy reach as are the Cathedral Cities of Hereford, Gloucester and Worcester each of which have their own unique attractions.
Visitors are welcomed all year round and there is always something to see and do. Relax on the Riverside Meadows, stroll along the Riverbank, take a river cruise or view the surrounding countryside from a Hot-Air Balloon. Whatever the time of year you are sure to enjoy this beautiful part of Herefordshire.
Maps and details of how to get to Ross-on-Wye are available on the 'How to find Ross-on-Wye' page, you can also find the weather forecast for Ross-on-Wye at the BBC - Weather Centre.