The River Wye
One of Britain's most scenic and unspoilt rivers
The River Wye is one of Britain's most scenic and unspoilt rivers. From its source on the barren slopes of Plynlimon deep in the Welsh Mountains the River Wye flows through Hay-on-Wye, Hereford and Ross-on-Wye. It continues on through Symonds Yat, Monmouth and Tintern until it reaches Chepstow where it joins the Severn Estuary after a journey of around 130 miles.
The clean, clear, fast moving streams near its source gradually deepen and widen as it slowly meanders its way across the rich agricultural lowlands of Herefordshire. As it passes Ross-on-Wye the river speeds up and changes into fast flowing, sometimes turbulent water as it reaches the rapids around Symonds Yat. The lower reaches of the river are tidal and the brackish waters of the Bristol Channel surge upstream as far as Bigsweir Bridge near Llandogo from its estuary at Chepstow.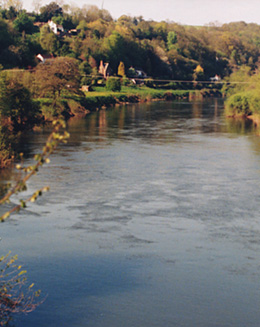 The banks of the River Wye offer a variety of scenery that is second to none and the lower Wye Valley with its steeply wooded cliffs and spectacular viewpoints such as Symonds Yat, Wintour's Leap and Wynd Cliff has been attracting visitors since the late 18th Century.
The River Wye provides a wealth of river activities including canoeing, rafting and cruising. The more adventurous visitor can take on the white waters of Symonds Yat in a canoe or kayak, however many prefer to enjoy the magnificent scenery from the comfort of a river cruiser or simply enjoy relaxing in the sunshine on the banks of the river.
The river is also justly famous amongst anglers and provides an excellent variety of coarse and game fishing, it has been described as the best salmon river outside Scotland. The many tributaries of the River Wye are well known for their trout fishing especially the rivers Monnow and Lugg but lesser known streams and brooks like the Garron offer great opportunities to catch a 'Brownie'.
Walkers can enjoy the Wye Valley Walk which follows the route of the River Wye all the way from Hay-on-Wye to Chepstow along a series of well maintained way-marked paths. The less energetic can try the Wye Valley Leisure Drive which allows you to enjoy all the enchanting river scenery without even having to leave your car.