The Wye Valley
Area of Outstanding Natural Beauty
Stretching from the village of Mordiford just south of the City of Hereford to the rocky outcrops of Chepstow Castle and covering some 72 miles of the banks of the River Wye, the Wye Valley was designated an Area of Outstanding Natural beauty (AONB) in 1971. Recognised as an internationally important landscape it has now been a protected area for almost 35 years.
Ross-on-Wye is the only town that actually lies within the AONB and it also forms an approximate boundary between the two very different types of landscape that predominate in the valley. To the north of the town the river meanders slowly over the lowlands of Herefordshire. The undulating sometimes steep wooded slopes around the villages of Woolhope, Fownhope, Mordiford and Brockhampton changes to a more gentle flood plain of rich agricultural land as it approaches the town of Ross-on-Wye.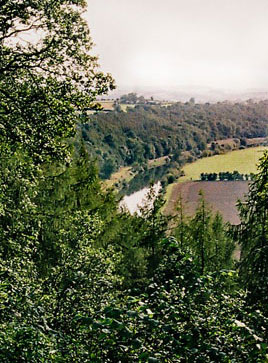 To the South of Ross-on-Wye the scenery changes again into the spectacular and famous landscape of the Wye Gorge that stretch from the village of Goodrich all the way to Chepstow. The dramatic limestone cliffs of Symonds Yat tower above the river as it meanders through the steep wooded slopes of the narrow gorge and forms a huge horseshoe bend almost 5 miles long. Extensive woodlands cover the slopes and cliffs that surround the river and you can find some impressive viewpoints along the course of the river as it passes through Redbrook, Brockweir, Llandogo and Tintern on its way to the cliffs of Wintour's Leap and its tidal lower reaches.
The Wye Valley has been a popular destination for tourists since the middle of the eighteenth century. John Kyrle the 'Man of Ross' was probably one of the first people to realise the potential of the area when setting out the Prospect Gardens in Ross to make the most of its beautiful views of the river. One of the early visitors William Gilpin inspired many with his descriptions of the 'Picturesque' landscapes he encountered on his journey down the Wye Valley. Many writers, poets and artists followed in his footsteps and their works encouraged more and more people to visit the area to see this very special place for themselves.
Today the Wye Valley Area of Outstanding Natural Beauty is one of the most visited in England and no visit to Herefordshire is complete without exploring its remarkable landscapes.